StockCar: R21- MadDog 2 The Bone wins first Michigan race
MadDog 2 The Bone becomes the third team this season two win multiple races, padding some extra playoff points for a championship run. Results here
Formula 1: R2- The Replacements power way to Pole for G. Britian race #2
The Replacements look like the team to beat this year, taking another Pole position. Results Here
StockCar: R20- Kat's Krew makes trades, gets big payoff in New Hampshire win
Kat's Krew and Victory Lap both made great trades that propelled them to a 1-2 finish, but it was Kat's Krew who proved the better team. Results here
Fast Five (Race 20): Kat's Krew wins Fast Five Bonus for Race 20.
Formula 1: R4- Buggs Island wins a crazy finish at the first of two British Granp Prix
Buggs Island Racing wins their first race of 2020, moves to second overall behind son. Results Here
StockCar: R19- Larry's Winners wins in Kansas
Larry's Winners pulled their weight to beat Galloping Ghost by 8 pts for thier first win of the season. Looks to move up the ranks for a possible playoff spot. Results here
Formula 1: R3- The Replacements win in Hungary - (Provisional results)
The Replacements have provisionaly won Hungary pending the outcome of the Racing Point cars legality, challenged by Renault. Results Here
IndyCar: R6- Dream Team sweeps Iowa winning Race #2.
Dream Team becomes the first two time winner, by taking both Iowa races. Results Here
IndyCar: R5- Dream Team wins first Iowa doubleheader
Dream Team became the 5th winner in 5 races. Despite not have race winner Pagenaud, Dream Team crushed the rest of the field. Results Here
IndyCar: R4- Victory Lap claims win for 2nd Road America race
Victory Lap comes home with 1st and 2nd, plus 4th place to run away with the victory at Road America. Results Here
IndyCar: R3- Northern Exposure wins Road America Race #1
Northern Exposure wins in Wisconsin. Does doughnuts at Canada Corner in cellebration. Results Here
Fast Five (Race 15): Pit Row Racing wins Fast Five Bonus for Race 15.
Fast Five(race 10): Big Dog Racing wins Fast Five Bonus for Race 10.
Fast Five(race 5): Kat's Krew wins Race 5 Fast Five Bonus
StockCar: Matt Kenseth value set at $1,355,000
Formula 1: 2020 Sign Up Available - Due Friday, Mar 13 Midnight - $20
Sign Up Here
Formula 1: R21- Scuderia Ferrari caps off the championship by winning the final race in Abu Dhabi
Scuderia Ferrari notches their 7th win in a single season beating Dippnsidways who misses a win for the 3rd time. Results Here
Formula 1: R20- Crush Buggs Island crushes the field in asurprising finish. Scuderia locks up Championship
While Crush Buggs Island wins in Brazil, Scuderia Ferrari gained enough points to secure the championship with one race to go. Results Here
Fast Five: Firedog Racing wins Race 30 Fast Five. New group set for Race 35
IndyCar: R17- Kat's Krew pulls off improbably dream. Wins Laguna and the Championship
Kat's Krew won the season finale while Tank Racing struggled in the double points paying race that saw Kat's Krew leap from 4th overall to 1st to win the championship in dramatic fashion. Results Here
IndyCar: R16- Crush Buggs Island wins in Portland. Top 6 alive to win it all at the final race in Laguna Seca.
Crush Buggs Island puts it altogether in Portland taking their first win of the seaso. Results Here
View Swee and I on the latest fan page for the GT Class Flying Lizard Porsche team from the American Lemans Series: View Here
In Loving Memory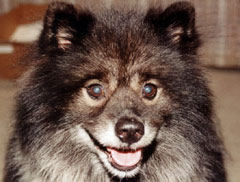 Ghost 1991-2007
The dog that started it all. View memorial pictures page here.