StockCar: R2- Team Jack Daniels is preliminary winner at Vegas
Team Jack Daniels looks to get a big win, but varying results by different sites, caused by the last lap yellow and several drivers crossing the line out of order, means the results may change once made official. Results here
StockCar: R1- Tank Racing gets the first win of the season at Daytona
Tank Racing starts off 2020 with the all important win in a crazy finish that was up unpredictable and up for grabs. Results here
Formula 1: R21- Scuderia Ferrari caps off the championship by winning the final race in Abu Dhabi
Scuderia Ferrari notches their 7th win in a single season beating Dippnsidways who misses a win for the 3rd time. Results Here
StockCar: R36- Larry's Winners 2 wins Homestead finale. MadDog 2 The Bone wins Championship
Larry's Winners 2 gets their 2nd win while MadDog 2 The Bone is our 2019 Champion. Results here
Formula 1: R20- Crush Buggs Island crushes the field in asurprising finish. Scuderia locks up Championship
While Crush Buggs Island wins in Brazil, Scuderia Ferrari gained enough points to secure the championship with one race to go. Results Here
StockCar: R35 - MadDog Motorsports takes the win from pole position in Phoenix
MadDog Motorsorts is on a roll. Can they get one more big run in Homestead. Results here
StockCar: R34- Pit Row Racing comes up big in Texas
Pit Row becomes the 27th different winner this season. Advances to finals of the Hunt playoff. Results here
Formula 1: R19- Scuderia Ferrari wins the US Grand Prix. Moves closer to championshio
Scuderia Ferrari extends their champiosnhip lead, but Buggs Island still remains within a one race swing. Results Here
Fast Five: Firedog Racing wins Race 30 Fast Five. New group set for Race 35
IndyCar: R17- Kat's Krew pulls off improbably dream. Wins Laguna and the Championship
Kat's Krew won the season finale while Tank Racing struggled in the double points paying race that saw Kat's Krew leap from 4th overall to 1st to win the championship in dramatic fashion. Results Here
IndyCar: R16- Crush Buggs Island wins in Portland. Top 6 alive to win it all at the final race in Laguna Seca.
Crush Buggs Island puts it altogether in Portland taking their first win of the seaso. Results Here
IndyCar: R15- Scuderia Ferrari gets 4th season win at St Louis
Scuderia Ferrari moves into 2nd overall after coming home with another win. Results Here
Fast Five: Gallopinghost wins Fast Five at Michigan.
Formula 1: 2019 Sign Up Available - Due Friday, Mar 15 Midnight
Same $15 as usual. Sign Up Here
Formula 1: R20- Buggs Island keeps championship hopes alive with victory in Brazil
Buggs Island pulled within 19 pts, but must win the final race and hope that The Replacements finishes 7th or worse. Results Here
IndyCar: R16 Fox Team comes alive in Portland for big win.
With double points in the season finale, five teams are alive for the championship, including Fox Team that moved from 9th to 5th with the victory. Results Here
View Swee and I on the latest fan page for the GT Class Flying Lizard Porsche team from the American Lemans Series: View Here
In Loving Memory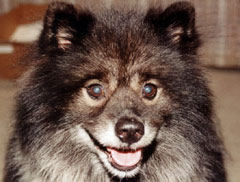 Ghost 1991-2007
The dog that started it all. View memorial pictures page here.